TRASH MIX LOAD 10 Yard Dumpster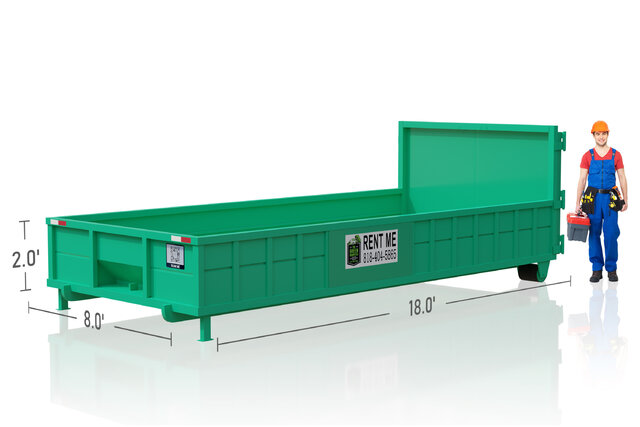 Size: 18'L x 8'W x 2'H*
Days: Up to 8 days
Rent Time Extension: $20/day
Ton(s): 2 included
Extra Weight: $90/ton
Description
10 Yard Budget Roll-off Dumpster for mixed trash loads
The 10 cubic yard roll off dumpster rental also known as a "Lowboy" trash debris dumpster is ideal pretty much any and all material that is non hazardous. You will receive a 2 ton weight limit with your order, exceeding the 2 tons will result in additonal fees (read below). You may mix household and construction waste togerther in this trash container.
The trash bin rental can be delivered to Residential, Commercial & Studio locations.-The bin has rear double doors for easy loading or open top where debris can be thrown in.-May be placed at home, business, driveway or curbside.
Restrictions:-Must be filled level with top of container only (nothing sticking out the top. PLEASE NOTE THAT THIS DUMPSTER IS ONLY 2 FEET TALL.
Using the 10yd bin for your trash removal you may load the bin level to the top with up to 2 tons of mixed trash debris. Customer will pay a additional $80.00 charge for every ton over the allotted 2 ton weight limit. We will not know your weight of your load until we take your bin to a certified scale house.
Rental time: 8 days (unless otherwise arranged)
Additional days over the 8days is $20.00 per day for the 10yd bin. Any changes on pick up day must be confirmed at least 2 business days in advance.
Example: If we deliver your 10yd trash bin on Tuesday, your pick up day will be the following week on Wednesday. If your dumpster is delivered on a Saturday, your scheduled removal day will be on Monday. If your removal date falls on a major holiday, your pick up will be the following business day.Must be filled level with top of container (nothing sticking out of the top of the bin). No hazardous materials such as but not limited to: Chemicals, paints, battery acid, oils etc. Please see our Q&A page tab above for a detailed description of other restricted items, or call our office if you are not sure.Providing trash bin rental in Los Angeles for over 30 years.
*All dumpster sizes listed are approximate and actual sizes may vary
Please call (818) 355-9597 For the lowest priced roll off dumpster rental in Los Angeles!