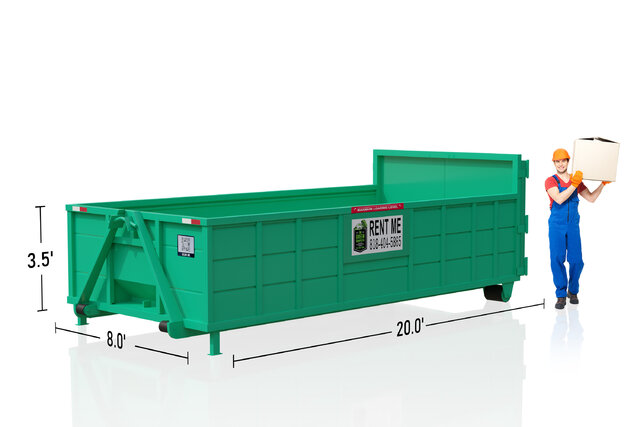 Size: 20'L x 8'W x 3.5'H*
Days: Up to 8 days
Rent Time Extension: $20/day
Ton(s): 3 included
Extra Weight: $90/ton
Description
25 Yard Dumpster Rental
The 25 cubic yard trash container is ideal for:-Large Construction jobs, demo's, remodels, large house cleaning.
Can be delivered to Residential, Commercial & Studio locations.-May be placed at home, business, driveway or curbside.-The bin has rear double doors for easy loading or open top where debris can be thrown in.
Restrictions:- Must be filled level with top of container- Weight limit is up to 3 tons of trash.
Do not load more than 15 wheel barrels total of any inert material(s), examples are dirt, rock, concrete, tile, brick, stucco, asphalt, sand etc. in the container.
$90.00 extra charge for every ton over the allotted weight.
Additional days over the 8days is $20.00 per day for the 25yd bin. Any changes on pick up day must be confirmed at least 2 business days in advance.
Example: If we deliver your 25yd trash bin on Tuesday, your pick up day will be the following week on Wednesday. If your dumpster is delivered on a Saturday, your scheduled removal day will be on Monday. If your removal date falls on a major holiday, your pick up will be the following business day.Rental time: 8 days (unless otherwise arranged)
Must be filled level with top of container (nothing sticking out of the top of the bin). No hazardous materials such as but not limited to: Chemicals, paints, battery acid, oils etc. Please see our Q&A page tab above for a detailed description of other restricted items, or call our office if you are not sure.
Providing trash bin rental in Los Angeles for over 30 years.
Please call (818) 355-9597 For the lowest priced roll off dumpster rental in Los Angeles!
*All dumpster sizes listed are approximate and actual sizes may vary