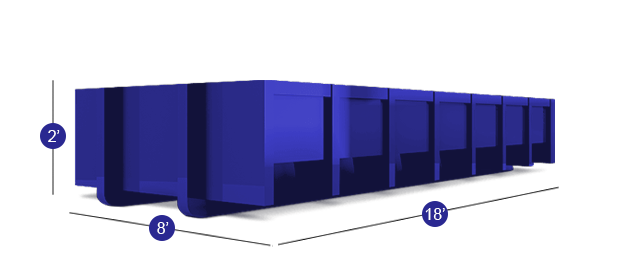 Size: 18'L x 8'W x 2'H*
Days: Up to 8 days
Rent Time Extension: $10/day
Ton(s): 𝘕𝘰 𝘞𝘦𝘪𝘨𝘩𝘵 𝘓𝘪𝘮𝘪𝘵- 𝘔𝘶𝘴𝘵 𝘣𝘦 𝘧𝘪𝘭𝘭𝘦𝘥 𝘭𝘦𝘷𝘦𝘭:𝘖𝘕𝘓𝘠 𝘋𝘐𝘙𝘛, 𝘙𝘖𝘊𝘒, 𝘊𝘖𝘕𝘊𝘙𝘌𝘛𝘌, 𝘉𝘙𝘐𝘊𝘒 & 𝘛𝘐𝘓𝘌
Extra Weight: No limit- Must be filled level with side's only.
Description
10 Yard Budget Roll-off Dumpster (Clean Inert Material Load Only)
*IMPORTANT PLEASE READ TERMS & RESTRICTIONS BELOW:
The 10 cubic yard roll off dumpster rental also known as a "Lowboy" is for inert material loads ONLY. It is to be used for the disposal of DIRT, CONCRETE, ROCK, SAND, CLEAN TILE (NO WIRE ATTACHED), BRICKS AND ASPHALT ONLY! You may load the bin level to the sides of the container with up to 13 tons of clean inert material only (no other material allowed).
Not following all the terms and restrictions will result in additional charges! If you have any other questions or concerns, please call our office where a staff member will be happy to explain what can and cannot be placed in this bin.
This trash bin rental can be delivered to Residential, Commercial & Studio locations.-The bin has rear double doors for easy loading with or without a wheelbarrel or open top where clean inert debris can be thrown in.-May be placed at home, business, driveway or curbside.
Restrictions:-Must be filled level with top of container-Up to 13 tons with clean inert material only with NO OTHER MATERIAL.
If you wish to use the 10yd bin for non-inert material you may load the bin level to the top with up to 2 tons of non-inert material only. Customer will pay a additional $80.00 charge for every ton over the allotted 2 ton weight limit. "CLICK HERE FOR MORE INFORMATION OR TO ORDER OUR 10YD CONTAINER FOR TRASH/NON-INERT LOADS"
What is considered inert?
-Inert material includes dirt, concrete, rocks, sand, tile (no wire attached), bricks, blocks and asphalt
What is considered non-inert?
-Non-inert material includes Grass/Sod, trash, roots (thicker than your index finger), sod,trash, drywall, wood, stucco, stucco with paper, asphalt shingles, plastic, green waste, etc.
Rental time: 8 days (unless otherwise arranged)
Additional days start on the 8th day @ $10.00/per day for the 10yd bin. Any changes on pick up day must be confirmed at least 2 business days in advance.
Example: If we deliver your 10yd trash bin on Tuesday, your pick up day will be the following week on Wednesday. If your dumpster is delivered on a Saturday, your scheduled removal day will be on Monday. If your removal date falls on a major holiday, your pick up will be the following business day.Must be filled level with top of container (nothing sticking out of the top of the bin). No hazardous materials such as but not limited to: Chemicals, paints, battery acid, oils etc. Please see our Q&A page tab above for a detailed description of other restricted items, or call our office if you are not sure. Providing trash bin rental in Los Angeles for over 30 years.
Please call (818) 355-9597 For the lowest priced roll off dumpster rental in Los Angeles!
*All dumpster sizes listed are approximate and actual sizes may vary